I'm not a camper.
Don't get me wrong, I love the idea of it…the great outdoors, sleeping with the stars overhead, a campfire to cook breakfast on, the sounds of nature outside of my tent.
But.
I'm spoiled these days.
Tents are fine, sure. But doesn't an RV sound better? A real bathroom? A refrigerator? A TV to watch the Travel Channel? Or how about a cabin? All the comforts of home without giving up being in nature?
Sign me up.
If you follow me on Twitter or Facebook, you already know that last month I packed up my little family and we headed out on a 3 week tour of the United States. 25 states, countless National Parks, and lots of oohs and hash from breathtaking vistas along the way.
While we didn't plan each and every stop, nor did we have hotels scheduled along the way, we DID have ideas of things we HAD to see (Yellowstone, Yosemite, where the Goonies was filmed) and things we HAD to do (drive the Pacific Coast Highway, touch a giant Sequoia, hike The Narrows of Zion).  And I'm glad we left our schedule flexibly planned, as it opened a few doors for us to be able to see and do things we hadn't really counted on.
But back to camping.
One of the stops we knew we wanted to make was Zion National Park, where The Narrows are located.  I saw The Narrows on television once- this steep gorge created by a small river, with canyon walls that climbed overhead at staggering heights. What really drew me in was that you could hike into the canyon, through the river, miles into that gorge, surrounded by millions of years of natural beauty.
I'm not a hiker.
Heck, I'm not even what you'd classify as an outdoor girl. But I have had in my mind for years that I was hiking that canyon, and nothing, even the 25 pounds I managed to lose in advance of the trip, was going to stop me.
But…where to stay?  There aren't a lot of hotels to choose from around Zion.  Though there are a few, I just couldn't commit to such prices (over $200-$400 per night) in a little touristy town full of well, tourists.  So imagine my delight when I receive an email from a PR friend asking if is be willing to try out a KOA Kampground – and soon.
Perfect!
We we traveling in my husbands truck, loaded down with 3 weeks worth of clothing, snacks, and electronics for the three of us, but no tent, no sleeping bags, no way to really camp. So I WAS a little worried, until I realized that many of today's KOAs have cabins!
From my iPhone, I began searching the KOA website (they do have an app as well!), and found that in Hurricane, Utah, there is a KOA campground that had cabins…and even better- they were FULLY EQUIPPED! All linens were provided (somewhat unusual, but check the KOA site as many sites now offer this convenience). A queen sized bed, a set of bunk beds, full bathroom, mini kitchen- it was above and beyond what we needed, but utter perfection for us!
Upon arrival, we checked in at the Welcome Center, where the general manager of the property checked us in to cabin #5, gave us the site map, walked us through all there was to offer, and even provided us with directions to nearby shopping and dining, as the KOA is remote in feel but is actually only a few miles from civilization.
We quickly found our cabin (and oh, the view from that covered porch!) and entered to find the most adorable room!  A quilted bed with lots of cushy blankets was already made, and the bunk beds were ready to be made with the provided clean linens. A good sized bathroom was complete with travel sized shampoos and soaps, plenty of towels, and even a hair dryer, which was totally unexpected.
Back in the main living area where our beds were located was a small dining table and tiny kitchen area, which had a coffee maker, microwave, and mini-fridge…plus a toaster, sink, and lots of plates and silverware for our use. Nothing was overlooked!  We even had a TV with lots of stations, and an air conditioner that was so well received in the 105 degree summer heat.
Just across from the cabin was the RV camping, which had several people staying. And just across from that was the in ground pool, where most of the kids splashed around in the late afternoons. There was even a putt putt course, and FREE TO USE. Gotta love free, especially with a six year old in tow, right?
One of the things I was thrilled about was the free Wi-Fi. However, I was warned at check in that because the office had just been moved, the Wi-Fi was down until a tech could come remedy it. But I was able to get enough cell service (thankfully) to keep up with my emails and twitter. But the fact that they even offered it was awesome, and a great convenience in a world where so many of us rely on the internet. Love the thought!
After a great first nights sleep (seriously, we slept great, and $109 for a night in a cabin? Amazing deal) we headed the few miles to Zion where as a family, we made it over 4 miles round trip up The Narrows.
Can't even tell you how good that made me feel!
Knowing we had a comfy bed to return to was a huge relief as well, and after a round of miniature golf, 3 rounds of showers (never ran out of hot water!) we all tucked in and slept like the dead.
We opted not to cook while there, but there was a grill outside our cabin, as well as a firepit if we had wanted to. Our neighbors were cooking the evening we came back from Zion, and they seemed to be enjoying it, but on vacation, I want someone else to cook.  So, imagine our surprise that our KOA Offered a free pancake breakfast on the morning we left out for the Grand Canyon!
I would definitely recommend checking into a KOA- they are very convenient, even for folks like me that are RV and tentless. Camp showers, bathrooms- all available. Seems like a great compromise to be able to camp and yet have the conveniences we've all gotten so accustomed to.
Like Wi-Fi.
And a toilet.
And a pool.
So I'm spoiled! Aren't you?
Great Grilling Recipes for Camping
Now, like I said, we weren't equipped to cook (nor did I want to, I was tired!) but Camp Grilling is a fun way to get everyone together.  Food brings us all together, so why not make it GREAT food?  Here are a few of my favorite grilling recipes for you to try:
Behind the Yellow Sign of KOA Kampgrounds
If you are looking for a great place to camp, whether in a tent, camper, RV, or maybe even a cabin, you should definitely look in  to what's behind the yellow sign of a KOA Kampground.  There are so many to choose from, and you can check pricing and availability from their very user friendly website.
Have you stayed at one already?  Where was it, and what did you think?  I'd love to know…I'm always up for a little more travel!
For more ways to find KOA Kampgrounds
Trekaroo bloggers and Mom It Forward bloggers are sharing their discoveries of "What's Behind the Yellow Sign".  You know, that KOA yellow sign that you often see whizzing by you on road trips? Well, wonder no more. Read honest reviews as well as family tips on fantastic camping recipes, crafts, camping activities and much more.  Get a look of KOA life through their photos and stories. Snag some camping tips for your next camping trip and then win a chance to stay in a Deluxe Cabin or to camp at a KOA this year.  You'll get to discover for yourself "What's Behind the Yellow Sign."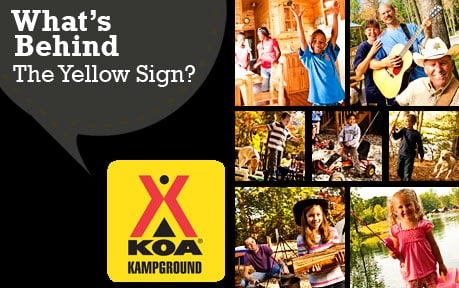 The Steal: KOA Giveaway with 3 winners
Whether you're looking for total relaxation or family fun; KOA creates amazing camping experiences.  Learn more about KOA and Win FREE camping at any KOA Campground in North America.  Your family's next great memory is waiting just Behind the Yellow Sign. 
Details: One (1) winner will win the grand prize and two (2) runner up winners will receive the second prize.
Grand Prize:
3 complimentary KOA Camping Vouchers good for one night apiece; including Deluxe Cabins, at any KOA campground in North America. Prize Value: $500
Runner Up Prizes:
2 complimentary KOA Camping Vouchers good for one night apiece; including Deluxe Cabins, at any KOA campground in North America.  Prize Value: $300
How do you enter to win?  Just follow this link!  Good Luck!
I have received a complimentary stay at a KOA via Kampgrounds of America. The opinions stated are my own. This is a sponsored post for Mom It Forward.