I'm really not even sure what to say.
My cookbook is officially out.
As in, available to purchase on Amazon, at Barnes & Noble, at Books-a-Million – pretty much any bookstore. MY cookbook. In stores.
Bizarro-World.
So, I thought a little celebration was in order. What better way to celebrate than with a little drink and something delicious?
I combined the two in a new sherbet recipe that I have to admit – knocks my socks off.
The texture is unlike anything I've ever had. It's soft, smooth, subtly crisp. The ripe bananas are the culprit for the creamy texture, but they in no way overpower the other flavors – the tang from the kiwi, the sweet of the fresh red strawberries. And the Moscato? Oooh, it adds a richness that's hard to describe. It's amazing. Fresh is the appropriate word. Fresca. Freshapalooza.
Try it.
Banana, Strawberry, Kiwi & Moscato Wine Sherbet
Rating: 5
Prep Time: 1 hour
Total Time: 1 hour, 30 minutes
Yield: 1 quart
Ingredients
2 ripe Dole Bananas, ripe
2 cups strawberries, fresh, capped
2 kiwis, peeled and sliced
juice of 1/2 lemon
1/2 cup granulated sugar
1/3 cup Moscato Wine (I used Gallo Family Vineyards)
3/4 cup heavy cream
Instructions
Combine all ingredients in a blender and puree until smooth. Refrigerate until cool.
Place puree into ice cream maker and follow manufacturer's instructions. Freeze and enjoy!
---
Now, what's a party without a doorprize?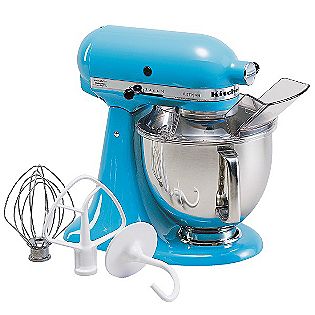 How about something else that's Freshapalooza?
Like, the brand new KitchenAid 5 Quart Mixer in Crystal Blue? It's the hottest color of the moment, and I adore it, don't you? While I don't have this particular color, I do have this model, and it is the perfect size for SO many applications…like making sherbet, for example. All you need is the ice cream bowl attachment, which I think is the bee's knees. But first – you need the mixer.
You do want to win one, don't you?
Of course you do.
To win, just tell me – what do you think of this new color? Leave me a comment, and you are entered to win!
For more chances:
There you are – 6 chances to win. Just be sure to leave a SEPARATE COMMENT for each one you do…Good luck!
Contest is open until May 23 at 11:59pm EST. Prize is courtesy of and shipped by KitchenAid. US Addresses only.