Oh, kids, it's been a long time coming.
I showed you some befores. Some durings. A few glimpses of what's been happening around here.
And now, I am finally going to show you the Full On After.
Yes, it's been a long time coming.
What started in January with an offer from my friends at KitchenAid – Would you like some new appliances?? – turned into a redo of my entire kitchen. I drew. I redrew. I went through massive amounts of specs and graphing paper and appliance manuals.
I selected the most incredible, gorgeous, never would have expected it in my lifetime appliances.
And then…the work started.
Cabinets were lifted. Some were moved. All were salvaged and a few more were ordered from Lowe's. You'd have thought the cabinet ordering would have been easy, but no. They no longer make my style and brand of cabinet, so I had to get creative and choose cabinets without doors, so that at least the color would match what I already had. (See the open cubbies beside the range, the open cabinets above the hood, and the shelves by the door? All new. They match!!)
The backsplash Jon had installed only a couple of years ago was removed, along with the drywall, and new drywall went up in its place. (Yeah, I am lucky – he's very handy and did it all himself.) The countertops had to go, and in their place went some incredible granite. A new sink, accompanied by a sleek Moen faucet were installed, and a Moen Potfiller was plumbed over the range. My island became a peninsula (after much deliberation), and above it hangs my HP TouchSmart All in One computer, the workhorse (and entertainment) of the kitchen.
And then came those appliances.
Imagine, if you will, an enormous box truck, backing up your gravel drive, loaded down with:
I die. I am so lucky. I may also be biased, but who wouldn't be? Look!
BEFORE:
AFTER:
To say I am in love with this kitchen is quite an understatement. I honestly can't believe it… Every. Single. Day.
Pinch me?
You'll be seeing me show off these fancy appliances via Instagram, Twitter, and of course, my blog, so stay tuned for all the trouble I'll be getting in to. I bet it's a LOT! (A Microwave that bakes and grills, a griddle on the range, a dishwasher I can shove 472 extra things in, an oven that has a built in steamer and meat thermometer? You can bet I'll be busy!)
---
Now, courtesy of KitchenAid, I'd like to give one of YOU something for making it all the way through my post without weeping. How about a mixer?
You want a mixer, right?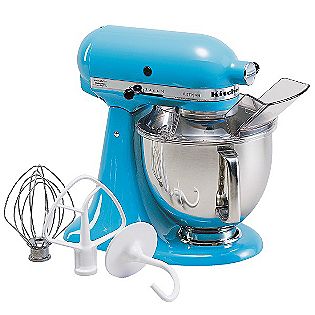 Like, the brand new KitchenAid 5 Quart Mixer in Crystal Blue? It's the hottest color of the moment, and I adore it, don't you? While I don't have this particular color, I do have this model, and it is the perfect size for SO many applications– you need this mixer.
You do want to win one, don't you?
Of course you do.
To win, just tell me – what do you think of this new color? OR – What do you like best in my new kitchen?? Leave me a comment, and you are entered to win!
For more chances:
There you are – 5 chances to win. Just be sure to leave a SEPARATE COMMENT for each one you do…Good luck!
Contest is open until July 31 at 11:59pm EST. Prize is courtesy of and shipped by KitchenAid. US Addresses only. As a Disclaimer, KitchenAid provided all appliances seen and mentioned, but did not pay me for this post or to say anything nice. All opinions are 100% my own.