It isn't every day you get to host a dinner that makes a difference.
If you know me well, you know I have a hard time in groups – they are overwhelming – but I am trying. Baby steps. I knew I wanted to host a dinner for KitchenAid's incredibly selfless 1000 Cooks for the Cure, but I just didn't think I could do a big group. Small works for me.
So up came Brandi and her husband Nick. I can always count on them!!
Last night we had a pretty scrumptious dinner of pork tenderloin wrapped in pork belly with a peach, mango and tomato compote, cheesy grits, and sweet peas. It was my first experience cooking pork belly, but I think I did okay! I seasoned the belly and then wrapped the tenderloin all the way around, and tied it up with butcher twine. A little liquid in the roasting pan, and into Gilda, my KitchenAid range, it went. I used the thermometer probe to keep track of when it was done (you preset the temperature probe to what you want it to register, and the oven alerts you when you are there, no guess work at all! Isn't that a neat feature?)
After dinner, we had dessert.
Peach Dumplings with a Sweet Cherry Sauce. Of course, vanilla ice cream played a part – dumplings require ice cream. Such a simple, rustic dessert that comes together in a flash, and makes wonderful use of the seasons freshest fruits – peaches and cherries – but tastes like so much more than a few moments work. As if the puff pastry surrounding the sweet peaches and cherries weren't enough, I added the makings for a cheesecake to the center of each peach before wrapping it in the pastry. I sometimes have good ideas.
That was a really, really good idea.
I think you'll agree.
Peach Dumplings with Sweet Cherry Sauce
Rating: 5
Prep Time: 15 minutes
Cook Time: 45 minutes
Total Time: 60 minutes
Yield: 8 servings
Ingredients
1 package Frozen Puff Pastry, defrosted
8 ripe free-stone peaches (I prefer yellow)
8 ounces cream cheese, softened
1/4 cup sugar
1/4 teaspoon almond extract
1 egg
8 teaspoons brown sugar
Instructions
Preheat oven to 375. Prepare a 9×13 baking dish with spray. Set aside.
Peel and pit the peaches, leaving them halved.
In a small bowl, beat the cream cheese, sugar, almond extract and egg until smooth.
Roll out sheet of puff pastry and cut into 8 squares. Place a peach in the center of each square, and sprinkle one teaspoon brown sugar on the inside of each peach. Fill the pit cavity with heaping teaspoons of the cream cheese filling, then quickly pull the puff pastry up from opposing corners and pinch closed to make a dumpling. Place dumplings into prepared pan.
Sprinkle with sanding sugar or other large sugar, if desired. Bake for 45 minutes, or until golden brown. Serve with vanilla ice cream and cherry sauce.
Notes: To make the Cherry Sauce: Place 2 tablespoons of butter in a large skillet, and add 2 cups of pitted sweet cherries. Allow to saute for 5 minutes, then add 1/3 cup of sugar and 1/2 cup of sweet wine, such as Moscato. Allow to simmer until syrupy. Add a teaspoon of vanilla extract once removed from heat, if desired. If mixture doesn't thicken as much as you'd like, sprinkle in cornstarch as needed, whisking vigorously to remove any clumps. Enjoy!
Hopefully you'll be inspired to host your own 1000 Cooks for the Cure party this week. You have until the 29th to get a group (there were 4 of us, so it doesn't have to be huge), and unite to raise a little money for a great cause…the Cook for the Cure and the Susan G. Komen Foundation. It seems we all know someone who has been affected by breast cancer, and this is an easy way to make a difference.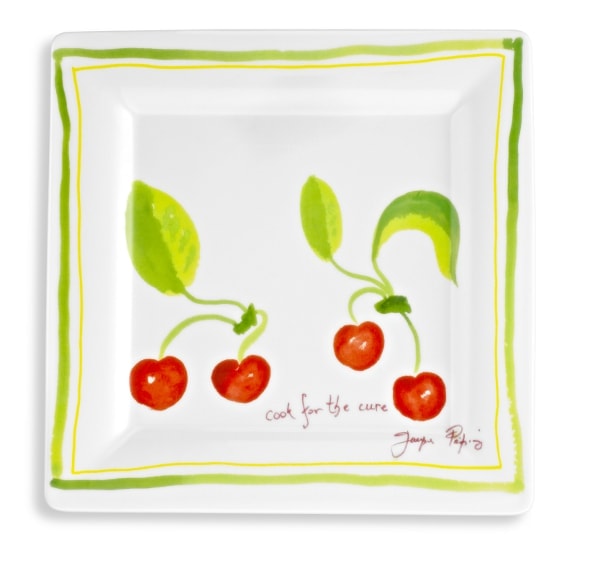 Host a party.
Any party that raises $50 or more will receive a free plate designed by Jacques Pepin in the mail (isn't it pretty?), and anyone who hosts a party and registers it on the KitchenAid website will automatically be entered to receive the ultimate "thank you" from Jacques Pepin himself!
I registered MY party, so I imagine a plate will find its way to me soon for Pass the Plate. Now to decide who to pass it to. You?
I do hope you'll join in on this summer's 1000 Cooks for the Cure. You have until the 29th…I'm so happy I participated, and I think you will be too!