Good morning!  I hope you had a great weekend, and are ready for a fun giveaway to continue my 12 Days of Giveaways!  if you haven't already, you still have time to get in on the KitchenAid Mixer and Waffle Baker Giveaways, so make sure you do that!
Today, however, is a little more, well, travel-y.
This year, I have found myself in Las Vegas a whopping 3 times.  Since August – 3 times.  All told, it's amounted to 15 days, and in that time, I got to have some amazing meals, see shows, shop, and stay in great places.  I also found a little time to get into trouble.  A bit. 
I want to share ALL of that with you.
So first things first, let's break Vegas into categories…Food. Lodging. Things to Do.  That's a good start, no?
I think so.  Today I am going to tackle the food…and one little thing to do, if you are so inclined.  But let's start with food!
Food
I have to say, I can't get over the incredible amount of ridiculous food options available in Vegas.  Every celebrity chef has one or more eateries there, from Wolfgang Puck, to Gordon Ramsey, to Bastianich and Batali.  There is no shortage of delicious food.
Scarpetta
One of my very favorites is Scarpetta, located in the Cosmopolitan.  The hotel itself makes you feel like a million bucks, with an enormous crystal chandelier that spans multiple floors, a casino that oozes excess, and a variety of restaurants for all tastes.  Scarpetta is owned by Scott Conant, and if you've not had his spaghetti, that dish alone is worth the visit.
Yes, spaghetti. 
It is ridiculous – so simple and full of flavor.  The noodles are huge, and the bite?  Yes, it's the bite that makes this the best spaghetti you'll ever eat.  But if you want more, the tasting menu is well worth the price, and offers several courses of masterfully prepared dishes.  Like the duck.  Dear Lord, the duck.
And did I mention the view?
Perched high above the Bellagio fountains, lucky window seats deliver a dinner show every 15 minutes.  You certainly won't be disappointed.  Nor will you find better service anywhere in Vegas.  The staff knows the menu inside out, from the drinks (try the Renaissance Mule!) to the desserts (Nutella filled Bomboloni, good GOD.) – this crew knows their business and you won't go wrong with their recommendations.
China Poblano
Another restaurant inside the Cosmopolitan is a most bizarre fusion – Chinese and Mexican.  China Poblano combines the best of both cuisine in a fun format of small plates – perfect for sharing with a group.  The drinks are also well done and creative, especially the margaritas topped with a salt foam versus salt rims.  It makes for a festive addition to an already spectacular drink, and the whimsical décor ties the whole package up quite nicely.  Definitely worth a visit!
Buddy V's
Where, other than the Venetian, would you expect to find an Italian eatery owned by Cake Boss Buddy?
Upon arrival, Buddy V's feels like an outdoor café, but the interior is full on family kitchen.  Cool lighting, an open kitchen, rolling pins hung as decoration – it's all very hip and yet understated. 
The food makes for a great lunch, which I was very impressed with.  The menu appears unassuming, even simplistic, and perhaps that is exactly what makes it so successful.  Simple dishes prepared according to traditional family recipes, from giant meatballs to mozzarella en carrozza, to one of the best mac & cheese plates I've ever had.  The best part though?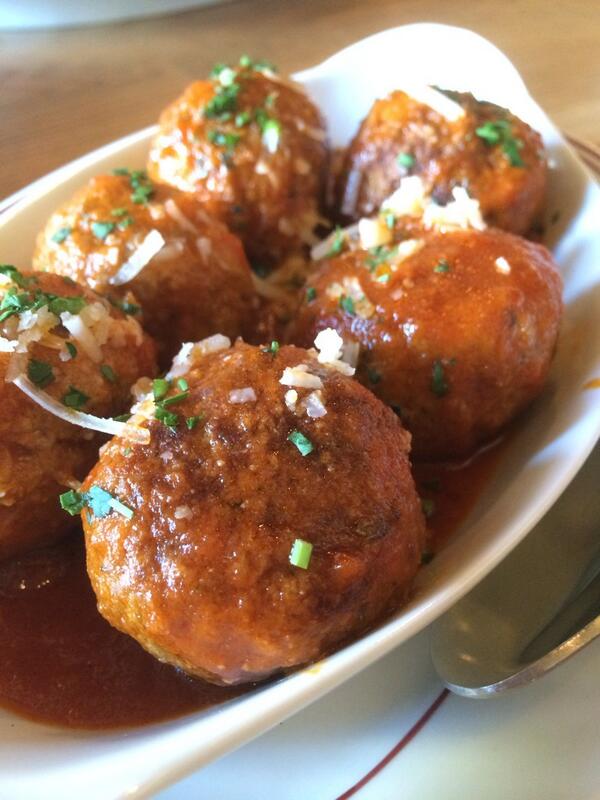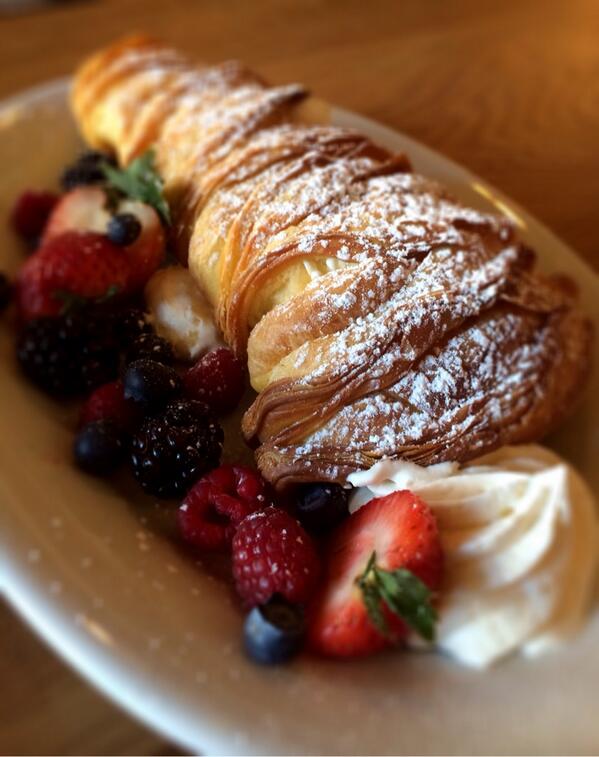 Dessert.
Buddy offers up his infamous Lobster Claw, and I can't even tell you how delicious and creamy this thing is.  Big enough to share (though you won't want to) and well worth every penny…you need to trust me on this.  If you have only one thing at Buddy's – make it this pastry.  You won't be disappointed.
The Buffet at The Bellagio
I couldn't very well go to Vegas and not mention a buffet.  So if you're looking for the best, look to the Bellagio.  Ever since seeing it on TV as the best, I knew I had to give it a shot.  Carved meats, pastas, pizzas, soups and sandwiches and desserts or all kinds.  Seafood and cheeses and good grief did I say desserts?  Great price for all you get, and one of the best buffets I've come across.
Fix
Duck and Waffles.  I have nothing more to say.
No really, Fix, located inside the Bellagio is more of an upscale bar setting, but the Duck and Waffles are worth the visit.  Duck confit, served with malted waffles, a soft fried egg, and bourbon maple syrup?  Yes, please.  Incredible.
Olives, by Todd English
Also located inside the Bellagio, and with unbeatable fountain views.  Seriously the water practically hits your window it's that close.  The food is well done, as one would expect from English, and red meats are perfectly cooked to order.  Personally though, I'd return for the view and the upscale décor.  It's right on with the best Vegas has to offer.
Lemongrass
Lemongrass was such a welcome change of pace, and with great pricing and even better service.  It is located inside the luxurious Aria, with an extensive menu in a cool setting. Lemongrass is Thai, and one of the best and easiest meals I had in town. Try the potstickers and any of the fried rice dishes…they do not disappoint.  Gotta love that it is open late with its full menu.  Yum.
Something to Do
Get a tattoo.
I did.
One late night I met James, stepping out of Starlight Tattoo, located inside The Mirage.  James was a doll and did great work, so I entrusted my wrists to his talent.  15-20 minutes later, I was out of my snakeskin chair and the owner of white ink tattoos, perfectly scripted, and absolutely everything I need to say.
Be happy for this moment…this moment is your life.
When in Vegas.
(Thanks, James!!)
The Giveaway
No, I can't send you to Vegas, or buy you dinner there, or even set you up with a tattoo.  But what I CAN do is offer you an American Express GIFT CARD to make it happen!
How about a $500 American Express?
I'd say that's not too shabby.
What would you do with it?  Tell me here and you'll be entered to win it.  Plus, if you'll share a link to this post tagging @doughmesstic, then return here to leave a separate comment, you'll be entered TWICE.
So get on it!
Disclaimer:  Post is not sponsored, and I was not paid to endorse any of these restaurants or James and Starlight.  Lunch at Buddy V's was complimentary and paid by a third party, but all thoughts and opinions are my own.  Contest open until December 25 at 11:59pm EST.  Winner will be notified via email provided on December 27.  US Addresses only, please.  Good luck!