I've heard that. You know, the Everything is bigger in Texas thing.
It may be true. What I do know for sure? Texas has a lot to offer, especially in Houston and The Woodlands.
A couple of weeks ago, I flew out to Houston with Paula to meet up with one of our favorite PR mavens, Kim, who happens to work with the gorgeous Woodlands Resort just outside of Houston. We hopped in our rental (no, we didn't get the Porsche Panamera, but wouldn't that have been hot?) and within about 20 minutes, we were on our way up to the exclusive Treetops Level of our resort.
Whoa.
From the minute we arrived we were greeted with big, Texas smiles, welcome packets, valet parkers, lots of information, and the friendliest service you could ask for. But once we reached our room level, we KNEW we were in for a real treat.
First up, a large communal area waited just outside the elevator doors, complete with television, large, comfortable lounging, and so many snacks. SO MANY. Candies, fruits, chips, drinks – you name it, we could have made a meal of it! But did we?
I'll never tell.
What I will tell you is that upon opening the door to our fantastic two bedroom suite, we were greeted with a CD player playing Panic at the Disco! Turns out these folks had been snooping around my blog and knew just what I wanted to hear! Attention to detail, folks – The Woodlands has it in spades.
I let Paula take the room with the king bed (whaaa?) and I took a room with two doubles. Both had great bathrooms, plenty of lounging areas, upscale décor, and nice smelling soaps. (I am a shampoo snob, this place did it right!) We also shared a large living/dining area and kitchen, and there was a powder room as well. Perfect for a group to share, or a family. Nice views, too!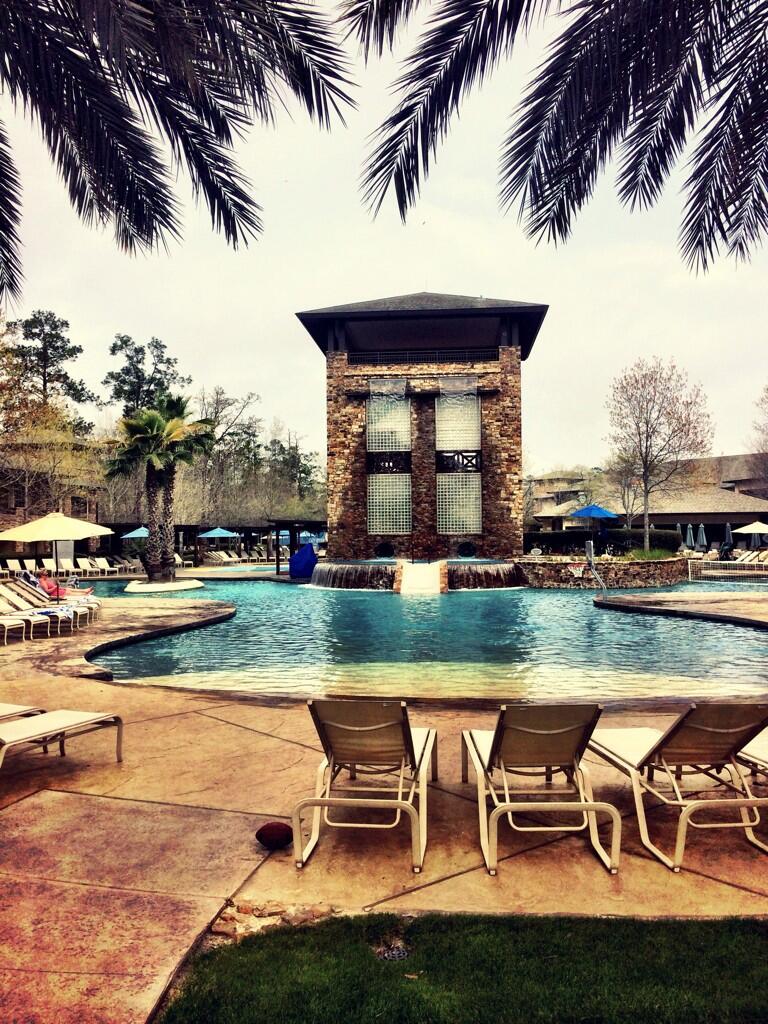 Out back was a huge pool area, and the resort is in the midst of building an enormous lazy river, due to open this summer. I can't wait to go back and try it out!
We ate many of our meals in the main dining room, and the food was fantastic. The chicken wings were to die for – in fact, I've already had Jon recreate them here at home I loved them so much…so stay tuned for that!
Oooh – we hit the spa, too! So relaxing! I had the hot stone massage, and it was out of this world. It was even nice just hanging out in the common room by the fire, chatting and drinking the fruit infused water. What a way to start a day, right?
Paula and I are thinking that next year, we may have to host our Mixed Conference at The Woodlands – it's ideal for groups and has so much to offer. How awesome would that be?
So…what else did we do?
Well, on Saturday, another blogger buddy met up with us! Pamela from y Man's Belly flew down from Dallas to join us at Rodeo Houston.
Rodeo Houston.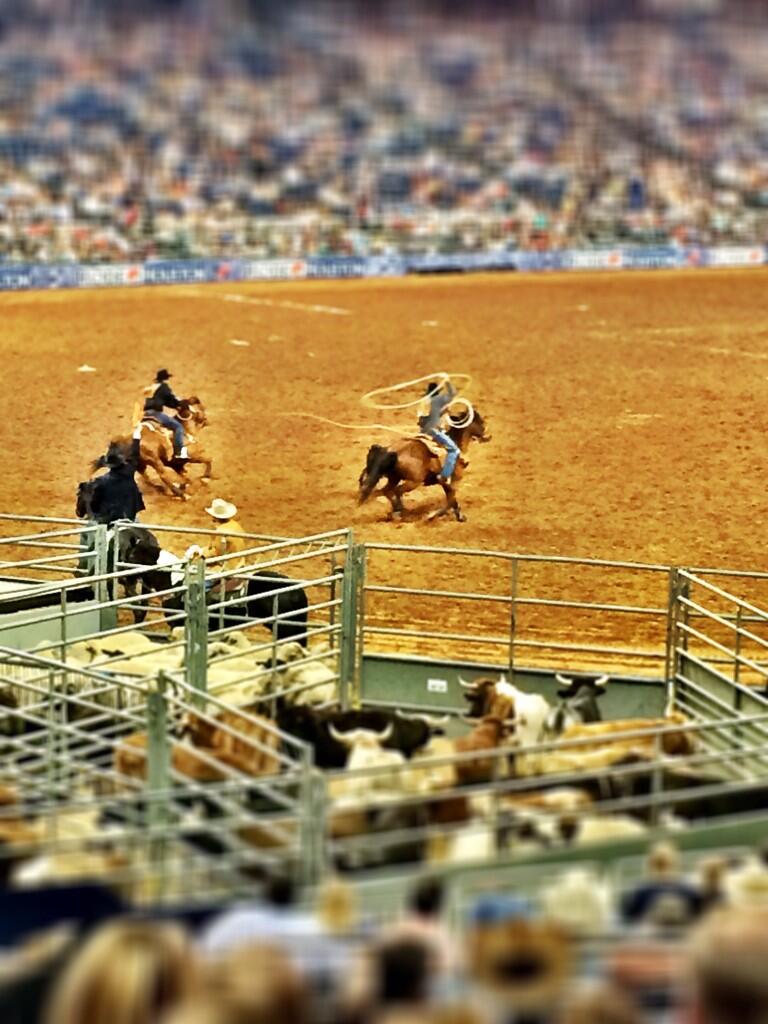 HUGE-EO. Puts the West Virginia State Fair to shame. Shopping, eating, deep fried everything. I bought a gorgeous cowhide rug…I couldn't help myself. And then there was the actual rodeo…
So many cowboys, so little time. Names like Tuf. Cody. Chase. Colt. I just wanted to drink them all in, boys riding bulls and making it look easy. All with that twang, you know the one. Good stuff.
Following the rodeo was a concert – The Band Perry. They did a bang up job and the crowd loved them. I would definitely recommend tickets to the rodeo for anyone interested – it has so much going on and lasts for 3 weeks. Full of great bands, cowboys, and of course…that fried food I mentioned. How could you go wrong?
All in all, it was a GREAT weekend, and I can't wait to go back again. Have you been? Anything you would recommend? I'm all ears!
The Woodlands Resort
A mere thirty minutes from downtown Houston, Texas a world of natural beauty meets high-tech convenience – and welcoming smiles are ready to grant even the most challenging of requests. An ideal destination for families and couples to relax
and refresh, it's also a world-class venue for conferences. Close to home, but worlds away, The Woodlands Resort & Conference Center awaits your arrival.
The Woodlands Resort & Conference Center
2301 North Millbend Drive, The Woodlands, Texas 77380
Toll Free: 800.433.2624 · Hotel Direct Number: 281.367.1100