Hello again!
Hope everyone is surviving (and at this point in the game, I do mean surviving) the holidays. I feel like we've been in the car, on the highway, in a hotel, in a guest room, at a dinner party, at a family gathering, eating a ham, eating a cake, eating another ham, drinking wine, playing Dirty Santa, and baking for the past 117 days.
I just want to go back to work. Like, for real. I want everyone back in school and back to work. Pronto.
I want my life back.
But, before that can happen, we have one more holiday to survive…New Year's Eve.
In case you hadn't gathered from my multiple posts proclaiming it, or from meeting me in person, I am not much of what you'd call a social person. Unless you consider sitting in a dark corner at a party, shaking and constantly checking my Twitter feed comfortably social. So – holidays like New Year's Eve are always a bit nauseating for me. Everyone want to be so colorful. So fun. So festive.
I want to curl up in my down comforter and sleep with all the pillows in the house, after a 2 hour bath and all the chocolate I can eat.
Happy New Year!
This year though, I'll be going out with some of our best friends to my favorite haunt – The Palisades. We eat there on average once a week, and if it were acceptable and I wasn't a food blogger with a guilty conscious, I'd eat there every meal.
People would talk, though. What a lazy food blogger, they would all say. Not that anyone around here knows who I am, or what I do for a living, or what I look like outside of the Fed Ex and UPS drivers. Whom I happen to have the cell phone numbers of and they know my different pajamas.
I get lots of deliveries.
But you want to know about decorating with wine bottles.
I mentioned it the other day, but now I'm going to go into it a little deeper for you.
First, grab a few empty wine bottles. Five is a good number – always go odd numbers, as it's more organic. I don't make the rules, just trust me on this. Another thing? Try to get different colored bottles. Some a blackish, some green, some yellow, some almost clear. They'll all look a little different once you've done your thing to them. Different sizes are nice, too. But – it's up to you!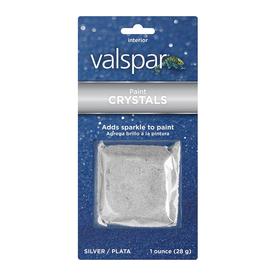 For my project, I used a Hammered Silver Metallic spray paint from Lowe's. It's nice and shimmery, but offers a less than perfect textured effect, which is what I wanted. You could use only that, but for mine, I went a step further…I added silver paint crystals from Valspar. I'm not sure if you've even noticed these before – they are kind of hiding out in the paint section of your local Lowe's, tossed in there beside the paint chips. They come in gold, too, but I really wanted silver.
I first noticed this product when we were repainting the kitchen, and I bought a pack of the gold crystals to add to our black accent wall. You dump the crystals in to your gallon of paint, shake it up, and what results is a shimmery bit of gold or silver on your walls. It's subtle, but so pretty.
That's what you USUALLY do.
For my wine bottles, I decided to spray each bottle, then sprinkled the silver crystals on them while they were still wet.
So sparkly! I wish you could see it better in the photos, but, you'll just have to take my word…it's nice!
To add more dynamics to my wine bottle centerpiece, I treated each bottle differently. One I wrapped in ribbon, one I covered in funky round stickers, one I taped off in stripes. Then I painted and sprinkled! Once dry, I removed the ribbon, tape and stickers, added lights, and arranged them with some greenery down the center of my dining table.
Great for a New Year's Even party, should you enjoy parties! You could even do something fun in the tops like sticking the corks back in, and topping the corks with a countdown (like 5-4-3-2-1) or "Happy New Year" or "2013" or even "It's My House, Please Eat and Drink and Please Ignore The Fact That I Am Hiding Upstairs in My Down Comforter Watching All the Episodes of The Walking Dead While You Ring In The New Year In My Kitchen."
I hope you have a lot of wine bottles.
I also hope you have a Happy New Year!!
Disclaimer: This post was sponsored by Lowe's, though all thoughts and opinions are my own.