Have you even done a search for holiday cookies recently?
Don't. Just, don't. It's overwhelming, and you'll likely find yourself immersed in sugary concoctions on Pinterest, which will start with gingerbread cookies, then ginger recipes, then red hair shades, then you'll drive 3 hours to have colorful stripes put into your hair because Pinterest thought it was a good idea.
But you wanted to look up cookie recipes. I know, I know. There are so many to choose from, but if you are like me, you want a huge variety. I get it. Time is short though, kids, and it's time to get smart.
Have a cookie exchange.
Just convince a few other friends to bake some cookies – their favorites – and you bake a few dozen of a couple of your favorites as well. Bake today and then open some wine tomorrow afternoon, tell the husbands you have some important things to tend to, and swap those cookies over a glass or four of moscato.
Now you have several dozen cookies in like 10 different flavors, and my, was it ever easy.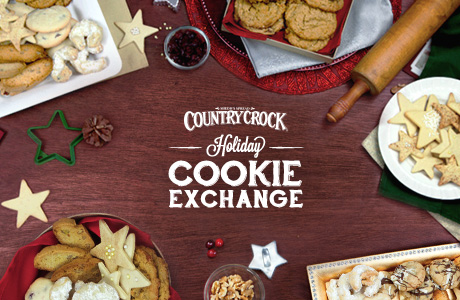 Country Crock has some great printables and recipes on their Holiday Cookie Exchange page, with plenty of ideas on how to make the most of your cookie exchange. They were kind enough to sponsor this post, so I hope you'll check out that info. Yes, it's great for Christmas, but honestly, why not at other times during the year? Valentines would be fun, too. Or Easter. Or Mardi Gras? Arbor Day? Is there a bad time to have a boat load of cookies? (Boat load equals a great theme for Columbus Day which is ideal for eating cookies…you're welcome.)
To encourage you just a little more, here is a cookie from the Country Crock site that I had to make. Of course, I had to change it up, because well, you know me – I can't leave anything alone. It's delicious, and is great for a cookie exchange! It was a simple and ever-so-easy base cookie recipe, so I turned it into Macadamia & White Chocolate Chip Cookies instead of Zebra Chocolate Chip Cookies. My way or the original way, you can't go wrong!
In the background there, you can see the Peanut Butter Honey and Oat Cookies from the Country Crock site – also delish! (and divine if you sub in Biscoff Spread for the peanut butter, ahem, were you so inclined, hehe!) Scroll down for the recipe!
Now – those Macadamia Nut Cookies. Yesssss.
Macadamia and White Chocolate Chip Cookies
(adapted from Country Crock)
Makes 4 dozen
Ingredients
2 1/2 cups all-purpose flour
3/4 tsp. baking soda
1/2 tsp. baking powder
1/2 tsp. salt
1 cup Country Crock® Spread
2/3 cup granulated sugar
2/3 cup firmly packed dark brown sugar
1 egg
2 tsp. vanilla extract
2 cups white chocolate chips
1 cup macadamia nuts
Instructions
Preheat oven to 375°. Grease baking sheets; set aside.
Combine flour, baking soda, baking powder and salt in medium bowl; set aside.
Beat Country Crock® Spread with sugars until light and fluffy in large bowl with electric mixer, about 5 minutes. Beat in egg and vanilla, scraping sides occasionally. Gradually beat in flour mixture until blended. Stir in 1 cup white chocolate chips and nuts. Drop dough by heaping tablespoonfuls, 2 inches apart on prepared baking sheets.
Bake 10 minutes or until golden. Let stand 2 minutes on wire rack; remove from sheets and cool completely.
---
Peanut Butter Honey and Oatmeal Cookies
---
The Giveaway
There's still time to get your best girlfriends (and baking guy friends) together for a last minute cookie exchange, so get on it! Plus to encourage you just a little, how about a Holiday Cookie Giveaway from Country Crock?
One lucky reader will win a Country Crock Holiday Cookie gift pack (ARV: $40) that includes:
Premium rolling pin
30-piece cookie cutter set
Three full value Country Crock spread coupons
To enter, just leave a comment sharing your favorite cookie, or a link to your favorite recipe. For an additional entry tweet your favorite cookie using the hashtag #CountryCrockCookies. So easy!
For more information on Country Crock:
Disclaimer: This post and giveaway was sponsored by Country Crock. All thoughts and opinions are my own.