Low Carb Chocolate Chip Cookies? Diet food, on Doughmesstic, ahhhgain?
Yep. But let me tell you why.
A couple of weeks ago, I was a cookie eating monster.
True story.
I was on board the Caribbean Princess, sailing from Florida to Grand Cayman and Cozumel. I ate, and I ate good. My diet? What diet? I was on vacation, kids…I ATE.
Nearly every afternoon, after exploring the ship (which was gorgeous), or a tropical island adventure, I would head back to my always clean, always comfy stateroom, and order room service.
What did I get?
Chocolate Chip Cookies and Milk.
Really. Almost every single day.
I enjoyed each and every bite, too, and then I took a nap. Because that's what I do. Cookies, Milk, Nap.
But here's the trouble…I came home to reality.
First off, no one is here to order from. No waiter, no room steward, no one to make my bed or bring me deep fried sandwiches. But more importantly, that diet of mine needed to make a comeback. A week of skipping the gym and eating 4 cookies with milk every day was a setback, for sure. Worth it? Yes. But not something I can keep doing at home.
So, I set out to find a way I COULD have cookies. Maybe not four a day, but still. So I did my thing, and created these Low Carb Chocolate Chip Cookies.
Your average chocolate chip cookie has about 150 calories and 20-25 grams of carbs.
Ouch.
My diet is very low carb, and I like to get less than 15 grams of carbs ALL DAY LONG.
Uh Oh.
These Low Carb Cookies I made use Bob's Red Mill Almond Meal, Hershey's Sugar Free Chocolate Chips, and two types of Splenda. Net carbs per cookie? 3.
Threeeeee.
Yes.
Low Carb Chocolate Chip Cookies
makes 20
Ingredients
1 stick unsalted butter, browned
2 tablespoons Splenda Brown Sugar Baking Blend, packed
2 tablespoons plus 1 teaspoon Splenda Baking Blend
1 egg
2 teaspoons vanilla extract
1 1/4 cup Almond meal
one teaspoon baking soda
1 1/4 cups Hershey's Sugar Free Chocolate Chips
sea salt, to top
Instructions
Combine cooled butter with Splenda blends in the bowl of a stand mixer. Mix on medium speed until well combined.
Add the egg and vanilla and beat well.
In a separate bowl, whisk almond meal with baking soda, then gradually add to wet ingredients, being careful not to over mix.
Stir in chocolate chips by hand, then chill dough for 30-45 minutes in the refrigerator.
Preheat oven to 350, and prepare a baking sheet with parchment paper or a SilPat.
Scoop cooled dough onto prepared pan. Sprinkle tops of cookies with sea salt. Bake at 350 for 10-12 minutes. Remove from oven, serve, and enjoy!
Cruising with Princess Cruises
See? Me eating my fool hiney off on a Princess Cruise led me to create cookies that low carb dieters can enjoy.
I should go on vacation more often.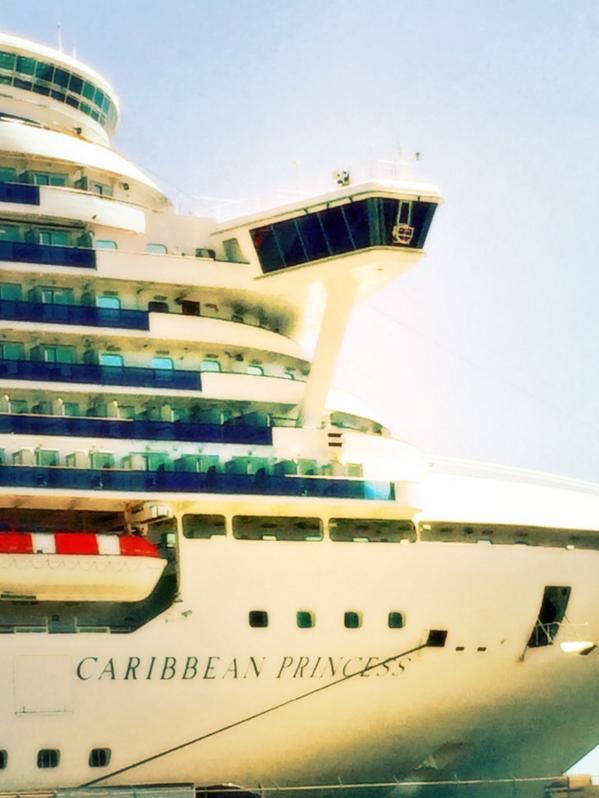 I LOVE cruising, and when Princess invited me to experience their Caribbean Princess, I knew I had to. I'll be posting about some of the amazing excursions I took (like swimming with stingrays) and the ridiculous foods I ate (like a peanut butter chocolate creation that rocked my world.) I'll also be sharing views from the Bridge (yes, the actual bridge) and the friends I met on board.
I hope you'll stick around for that!
Until then, here is some great info on sailing with Princess!
– Chocolate Journeys – http://www.princess.com/learn/onboard/food_dining/chocolate-journeys/
– Caribbean cruise info: http://www.princess.com/learn/cruise-destinations/caribbean-cruises/
– Info for people new to cruising: http://www.princess.com/come-back-new/new-to-cruising/
– Onboard experience in the Caribbean: http://www.princess.com/learn/cruise-destinations/caribbean-cruises/onboard/
Disclaimer: I was part of a media tour with Princess Cruises. This recipe and thoughts are my own.